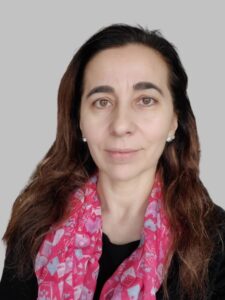 A Boskola képviseletében tagja a vezetőségnek
Magyarországon születtem és 2003 óta élek az Egyesült Államokban. Férjemet, aki szintén magyar itt kint ismertem meg és családommal Billerica-ban élünk. Fiúnk és lányunk már itt az USA-ban születtek és mindketten a Boskola diákjai. Én 2008 óta tanítok a Boskolában. Először a bölcsődés foglalkozásokat vezettem 3 évig, ezután az óvoda következett 5 évig, majd azóta alsótagzatos osztályokat tanitok. Magyarországon az akkor még egri Eszterházy Károly Tanárképző Főiskolán (most már egyetem) szereztem biológia-fizika szakos tanári diplomát és itt a UMass Boston Early Childhood mesterképzését végeztem 2009-ben. Jelenleg Kindergarten tanárként dolgozom a Lowell Public School-nál. Nagyon szeretek tanitani, játékos, vidám foglalkozásokat tartani. A Boskola és a cserkészet fontos szerepet játszik családunk életében és nagyon sokat segit a magyar nyelv, kultúra, néphagyományok megismerésében és ápolásában. Szabadidönkben nagyon szeretünk utazni és kirándulni. Nagy örömmel és lelkesedéssel veszek részt a Massachusettsi Magyar Egyesület munkájában is. Megtiszteltetés, hogy a Boskolát képviselhetem a vezetőségében.
I was born in Hungary and have been living in the United States since 2003. I met my husband who is also Hungarian here in the USA and we live in Billerica. Our son and daughter were born here in Boston and they are both students of Boskola Hungarian School. I have been teaching at Boskola since 2008. First I taught babies 0-3 years old for 3 years, then preschool followed for 5 years, and since then I have been teaching lower elementary grade classes. In Hungary, I graduated from the Eszterházy Károly Teacher Training College in Eger (now a university) with a degree in Biology and Physics. Later I graduated with a Master's Degree in Early Childhood at UMass Boston in 2009. Currently I work as a Kindergarten teacher at Lowell Public School. I really enjoy teaching, playing, having fun classes. Boskola and the Hungarian Scouts play an important role in the life of our family and help a lot in getting to know and nurturing the Hungarian language, culture and heritage. In our free time we really like to travel and hike. I'm honored to take part in the work of the Hungarian Society of Massachusetts and represent Boskola on the Board.